Urban Ghost Story Cast
Heather Ann Foster as LIZZIE FISHER
Native Glaswegian, Heather Ann Foster, plays the central guilt stricken character of Lizzie in Urban Ghost Story. Even though this is Heather's first major role in a feature film, she has produced a stunning performance, capturing the tapestry of guilt, stress and anger that courses through Lizzies veins. Heather was attracted to the project by the complexity of the character and was signed after meeting Genevieve Jolliffe during a casting call in Glasgow.
Heather is no stranger to the film business as her father is a renowned camera operator and she has taken parts in other film and TV productions such as Taggart. 'I would jump at the chance of doing another feature film' commented Heather, 'as I love the way it works. I'm just not looking forward to going back to school when we complete shooting!'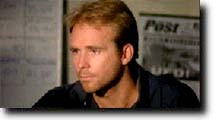 Jason Connery as JOHN FOX
Jason Connery recently returned to the UK with his American wife Mia Sara and newborn son. Urban Ghost Story is his first film since his return, and he was excited about the character of John Fox as he is very far from the type of characters he usually plays. Jason was particularly attracted to the contemporary setting for Urban Ghost Story, the down to earth characters and general feel of the piece.

'The screenplay is very tight - and it's a very different kind of ghost story to what people are used to' comments Jason. As Jason has a newborn son, he was delighted that his character needed to be tired, run down, and generally worse for wear!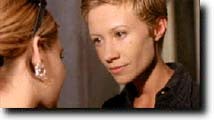 Stephanie Buttle as KATE FISHER
Kate Fisher, once a heroin addict, now a mother of two trying her hardest to bring up her kids in the worst part of town, is played by Stephanie Buttle. Described as a teenage thirty year old in the screenplay, Stephanie's onscreen presence is ideal - a mixture of strong yet brittle. Steely eyed and tough as nails, Kate fights her way through the cycle of poverty in the film, to reach a resolution which forever changes the character.

Stephanie was enthralled by the screenplay, 'Not only was it a good, strong and truthful character to play, but it was also a very frightening story'.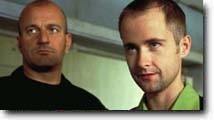 Billy Boyd as the LOAN SHARK
Before going on to play Pippin in Peter Jackson's Lord Of The Rings, Billy spent two fun days on Urban Ghost Story, playing against type, as a hard and vicious loan shark terrorising the Fisher family.

Billy's character represents one of the 'real world' demons in the life of the family, often far worse than the paranormal demons that may haunt the home.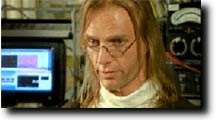 Andreas Wisniewski as DR QUINN
Born in Germany of Polish descent, and star of Hollywood action pictures such as Die Hard and The Living Daylights, Andreas plays the neurotic parapsychologist Dr Quinn. Determined to explain the forces at work within the poltergeist infested Fisher household, Quinn represents the 20th Century religion of science - 'If it can't be explained it doesn't exist' ponders Quinn.

Andreas has been involved in the development of An Urban Ghost Story from embryonic stages, brainstorming and helping with script revisions. The main attraction is working with creative film makers and not inside the often staid environment of Hollywood features. 'I think Quinn is a control freak' comments Andreas, 'and he's probably also a serial killer too - maybe that's for the sequel!'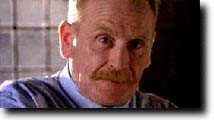 James Cosmo as THE MINISTER
Seasoned Scots actor, James Cosmo, represents the only anchor of Christian religion within Urban Ghost Story.

He's no ordinary Minister either, but a reformed gangster with a chequered past. He acts as a voice of reason for the increasingly paranoid and distressed Lizzie as she battles with her fears of retribution and damnation.

James has worked on many major feature films and TV shows, including Roughnecks, Braveheart and Trainspotting.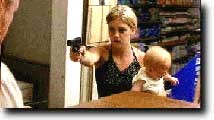 Nicola Stapleton as KERRIE
Nicola Stapleton plays Kerrie - barely older than Lizzie, she is half mother figure, half a best friend. She has lost her way in life and is unfortunately dragging Lizzie down with her. She recognises a rival in Kate, as a woman who has escaped the downward slope in which she finds herself and is jealous of her relationship with her family.

When Nicola read the script of An Urban Ghost Story she was immediately attracted to the part of Kerrie, as the character encompassed all the elements that Nicola enjoys playing - Kerrie was feisty, sympathetic and in a whirl of emotions. Nicola also appreciated the importance of a character like Kerrie as an image for young girls. As a public figure, Nicola is aware of the influence that she has and wanted to show how hard it is to bring up a young baby by yourself. Nicola is now rehearsing for Scissor Happy, which starts on the 8th October at the Duchess Theatre in the West End.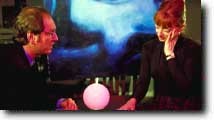 Elizabeth Berrington as MRS ASH
Elizabeth plays the spiritualist Mrs Ash who is brought in by The Glasgow Post reporter John Fox. Mrs Ash provides the other world element, believing that Lizzie's spiritual aura has been breached allowing the demons who wait like a cat scratching at the door, to be let in. Mrs Ash believes there are three entities in the council flat, the first a young boy who she's passed on to the other side, the second a man who's mentally subnormal, banging things about and the third - a demon.

Elisabeth brings sincerity to her part, taking the character of Mrs Ash away from the cliched image of spiritualists, through a comical yet frightening seance. Elisabeth has worked with Mike Leigh on two of his films, Naked and the oscar nominated Secrets and Lies.
Urban Ghost Story Crew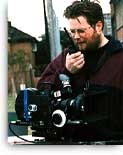 Chris Jones - Producer / Screenplay
Urban Ghost Story marks the third feature film for Chris Jones, but the first as a producer. 'It's been a new experience for me and I now fully appreciate the onset job of a producer, perhaps best described as production therapist and executive trouble-shooter'.

'The movie came about when Genevieve and myself decided we wanted to make a scary movie, not a horror movie, but a genuine chiller. We felt that this could only be achieved through reality, and after a few months research we had come up with the concept of Urban Ghost Story, a paranormal tale rooted firmly in Glaswegian reality'.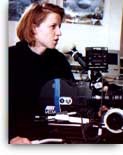 Genevieve Jolliffe - Director / Screenplay
After producing Living Spirit's first two features, Genevieve has jumped into the Directors chair for their third, Urban Ghost Story. 'I have always wanted to direct and I saw producing as simply a means to an end' comments Genevieve.

'I wanted my first feature to be much more than just a horror movie, I wanted it to ooze a creepy atmosphere whilst remaining firmly in reality. Ghost stories are only genuinely chilling when you feel that they could be true - hence the heavy reliance on research and true events within the story.'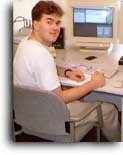 Eddie Hamilton - Editor
Eddie Hamilton is the film editor for Urban Ghost Story. Like Genevieve, Eddie's life was changed when he saw Star Wars, and it has remained his life's ambition to edit exhilerating big budget action movies. He trained to be an Avid editor in broadcast television before reading Jones and Jolliffe's book, The Guerrilla Film Maker's Handbook after which he e-mailed them to find out whether they had an editor.

When they asked him why they should hire him he replied 'You won't find anyone with more energy and enthusiasm, and I'm sure I will live up to your expectations'. They hired him. Eddie swears by computer based non-linear editing, 'Avid allows you to edit as fast as you can think, you don't have to wait for anything. During the shoot I would have a scene edited twenty-four hours after it was shot, and the day after the shoot wrapped we had our first assembly.'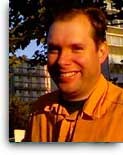 Jon Walker - Director Of Photography
Jon met Chris and Genevieve at film school, where they developed and produced award winning short films. Since then, Jon has worked on all Living Spirit's features as their Director Of Photography. Jon's approach to the film is much more than that of just the DoP, he has been actively involved in the script development, helping to create a richer and more vibrant story with each draft.

"So often the focus of the film makers is not that of the screenplay - this is odd to me as no matter how good the lighting, editing or music, if it isn't a story worth telling in the first place, no-one is going to enjoy it. As the DoP it's my job to ensure that what I expose on the negative tells the story, and from a stylistic point of view, is appropriate to the story."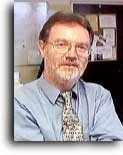 David Hardwick - Executive Producer
David has been involved with Living Spirit from their first film The Runner. He has tracked their development and invested regularly in order to facilitate the production of commercial feature films. David is a person who responds to the challenge of creating something wonderful from something little more than a good idea.

"It's long been my dream to revitalise the British Film Industry by working with people like Chris and Genevieve to produce cost effective, yet commercial product for an ever expanding market place. It's a very exciting time as there truly is a revival in the film business and with digital technology, whole new and vast markets are opening up."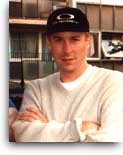 Ian Hierons - Associate Producer
Associate producer Ian Hierons has worked as a music supervisor for years. He was asked to become involved in the making of Urban Ghost Story as he could bring to the table his considerable expertise with music, as well as a shared affinity with Living Spirit for story telling. His experience in people management and organisation proved a godsend during shooting.

"This is the first feature I have been involved in at this level of production - and it's been a fascinating experience working with a group of such talented and dedicated film makers and actors. What amazed me the most was the almost constant stream of seemingly insurmountable problems that somehow got fixed every day. It was amazing"
Full Cast And Crew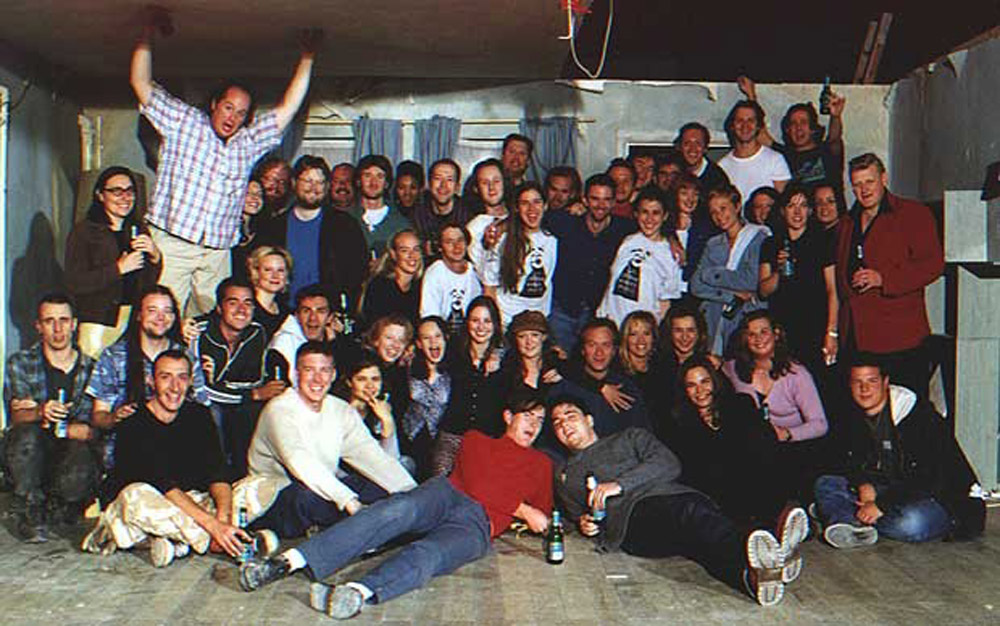 Cast
Stephanie Buttle - KATE
Heather Ann Foster - LIZZIE
Jason Connery - JOHN FOX
Alan Owen - ALEX
Nicola Stapleton - KERRIE
Joss Castell-Gydesen - WEE JACK
Andreas Wisniewski - QUINN
James Cosmo - THE MINISTER
Richard Syms - GEORGE
Stephen MacDonald - CORONER
Elizabeth Berrington - MRS ASH
Kenneth Bryans - MR ASH
Billy Boyd - LOAN SHARK
Ken Whitfeild - HENCHMAN #1
Eric Maclennan - HENCHMAN #2
Carolyn Bonnyman - MRS MILLER
Siri O'Neal - HELEN
Nick Von Schlippe - SMART
Linda McGuire - EDITOR
David Walker - CHEMIST
Chris Howell - GRANT
Rachel Nicholson - SIOBHAN
Niki Ball - KELLY
Claire Keppie - MORAG
Philip Rosch - JOURNALIST
William Maud - STUDENT
Nicola Greene - WPC TOMPKINS
David Haddow - KEVINS DAD
Jack El-Eini - DANNY
Julie Austin - TEACHER
Andy McEwan - PC GOODWIN
Catherine Neal - DOCTOR
Rachel Coles - CIVIL SERVANT
Arron Miller - KEVIN

Crew
Director - Genevieve Jolliffe
Producer - Chris Jones
Screenplay - Chris Jones & Genevieve Jolliffe

Associate Producer - Ian Heirons
Executive Producer - David Hardwick
Assistant Executive Producer - Jagjit Banwait
Financial Advisor - Ian Carr
Financial Advisor - Robert Young

Cinematography - Jon Walker
Camera Operator - Stuart Roweth
Focus Pullers - Jaye Polyzoides, Andrew Wiggins,
Andrew Gleboff
Clapper Loaders - Robin Horn, Mathew Bradley
2nd Unit Camera - Martin Gooch, Peter Bathurst

Gaffer - Aidan Spencer
Best Boy - Frazer Alaric Lee
Best Boy 2 - Joseph Alberti
Best Boy 3 - Simon Alderdice
Key Grip - Craig Gillings, Kornel Dunin
Grip / Spark - Brian Maher

Sound Recordist - Steph Baldini
Assistant Sound - Trevor Moore

Production Design - Simon Pickup
Art Director - Alice Norris
Standby Props - George Siougas
Props Master - Anna Lobbenberg
Construction Manager - Mark Sutherland
Set Decorator - Chris Burridge
Leading Scenic Artist - Stephen Martlew
Construction - Howard Wakefeild, Carl Francis,
Graeme Wilson, Idoia Acha, Miranda Bowen,
Daphne A Braasch, Simon Dawe, Shay Leonard

Costume Design - Linda Haysman
Costume Assistant - Nadine Hindy, Lucy Sampson
Wardrobe Assistant - Zoe Marshall
Make-up - Xanthia White
Make-up - Sarah Alexander

1st Assistant Director - Grietje Besteman
2nd Assistant Director - Stephen Clarke
3rd Assistant Director - Maria Sanz-Estevez
Production Manager - David Higginson
1st Production Assistant - Claire Moore
2nd Production Assistant - Simon Reglar
Production Co-ordintor - Carmen Dyer
Location Manager - Claire Moore
Script Supervisor - Lawrence Jackson

Music - Rupert Gregson-Williams

Stunt Co-ordinator - Terry Forrestal
Special Effects - Dave Beavis
Action Vehicles - Bickers
Casting - Catherine Arton
Stills Photographer - Margaret Zakovicz

Tutor Chaperone - Adam Armstrong

Film Editing - Eddie Hamilton
Sound Effects Editing - TBC

Prosthetic Effects - Philip Mathews

Runners - Jonathon Dibley, Rhett Coxhill