'Urban Ghost Story' Production Notes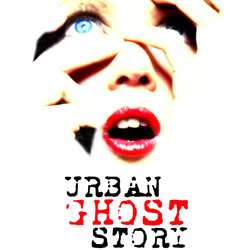 Urban Ghost Story is the third collaborative feature film for the Living Spirit Pictures stable, and from Chris Jones and Genevieve Jolliffe.

Jones and Jolliffe met at film school, and after producing several award winning shorts, left to produce their maiden feature film, The Runner, an American action thriller. This was followed by White Angel, a serial killer thriller starring Peter Firth, which premiered as the centrepiece of the London Film Festival as well as collecting several International Film Festival awards and accolades.
After watching a chilling documentary about poltergeist infestation, Jones and Jolliffe recognised a new slant on the 'ghost' genre - reality. 'If you believe what you see is real, it makes it all the more frightening' comments Chris Jones, 'that's why whenever anyone tells a real ghost story, if the mood and ambience is right, the tale can be spine tingling. Everyone knows someone who claims to have seen a ghost, everyone has at least one good supernatural tale, and everyone likes to hear other peoples spooky tales.' Comments Genevieve Jolliffe, 'It was important for us not to develop the screenplay in a way that would go down the Hollywood route with high end special effects - these movies have been done extremely well, and with budgets far exceeding ours. The secret for us was to capture that late night, story telling in a candle lit room with friends and a bottle of wine atmosphere.'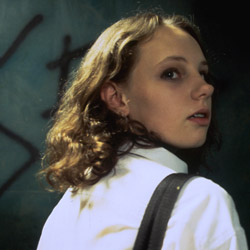 Research began - 'We discovered several fundamental facts very quickly' remarks Jolliffe,  'poltergeists do appear to actually happen for one, they are real. They often last weeks or months and do not seem to bare any connection with what most people would call a classic haunting. Often they occur in places not associated with ghosts, such as council houses or flats for instance. More importantly, we became aware of a very strong link between poltergeist activity and pubescent girls who have experienced a recent trauma - this gave us the foundation for 13 year old Lizzie, the central character in our movie'.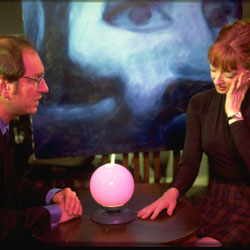 Visits to spiritualists for a private session of clairvoyance, and an evening on a genuine haunted house ghost vigil all helped fill out the characters of the people who become involved in the story. 'We didn't see any ghosts, nor did we expect to, but that didn't stop the experience being anything less than terrifying!'

Over twelve months of writing, the screenplay grew organically, moving away from a classic 'ghost movie' and into the gritty hard hitting drama area. 'This wasn't something we had planned' explains Chris, 'but it's where the characters in the movie were taking us. The poltergeist moved away from centre stage and became a metaphor for the central theme of the film... guilt.'

January 1997 - Living Spirit move into Ealing Film Studios where they continued to develop the project, and moved into pre-production. Executive Producer David Hardwick came onboard and a deal was struck whereby he would supply the production finance.

Urban Ghost Story officially moved into pre-production.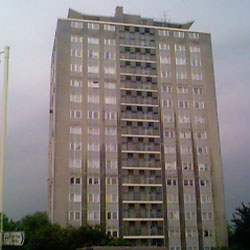 Glasgow was the chosen setting for Urban Ghost Story proving a dynamic and gritty history for the characters in the film. 'It seemed the natural choice for the setting' says Jolliffe, 'there's a genuine cinematic quality to the city and the people.' Even though Urban Ghost Story was to be set in Glasgow, the interior sets where most of the film would take place were to be built at Ealing Film Studios in London.

Production Designer Simon Pickup was hired to give the film it's unique look, 'Right from the start Chris and Genevieve wanted to create something with visual flare. We talked about the movie, then opted for a colour palette from which everything in front of the camera would be drawn. This was a predominantly a pale green colour, emphasising a sense of urban decay and a cold and empty feeling.' Set building began on Stage 4 at Ealing in August '97.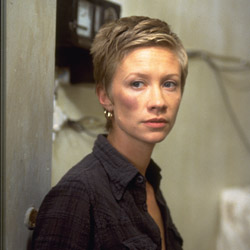 Kate Fisher, the mother character was equally important - described in the screenplay as a 'teenage thirty year old', she needed to be tough yet vulnerable. After seeing many high profile actresses, Living Spirit plumped for Stephanie Buttle as she typified Kate in both appearance and performance. 'I had read the screenplay for Urban Ghost Story and loved it. What appealed to me most was the fact that the characters seemed very real, enduring problems with which I could identify. It was also good to see a strong female presence in the film without it deteriorating into the clichés usually associated with strong female characters'. Last up was the part of John Fox, the journalist who exploits the families position in the story. Again, many actors were interviewed and Jason Connery was suggested very early on. 'He was in LA with his new born son and we were in Ealing' comments Genevieve, 'we didn't think he would want to come back to the UK for a  part that wasn't even the lead'. Fortunately, Jason did come to the UK and after a meeting at Ealing, he was hired. 'When he walked through the door, we knew we had found our John Fox' remarks Chris, 'he simply oozed the sex appeal and star qualities the character required.'

Shooting began August 18th 1997 and wrapped five weeks later. The crew was drawn from new and emerging talent, 'everyone on the crew was there because they wanted to be, not just because of the money - that made for a creative and productive working experience for everyone. The energy was incredible, even the cast picked up on it and went the extra mile whenever the occasion called for it.'
A further week of shooting on location in Glasgow was also required as well as a completely independent stunts and effects shoot. Terry Forrestal, top stunt co-ordinator and long time friend of Chris and Genevieve's came in to work on the spectacular high fall from the tower block and car crash at the end of the film. 'These two stunts were the climax to our movie and we knew we had to create something special,' comments Jones, 'and Terry was the man to get the job done. Whilst the jump from the building was spectacular, the car crash was much more dangerous. It was a nerve wracking two days, but what we got on the night was breathtaking.'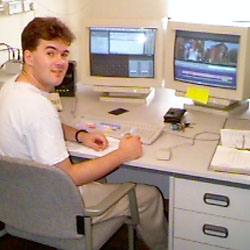 Editing also took place at Ealing Film studios where Eddie Hamilton cut the picture on Avid. 'Cutting a project like this has been a great experience. Working with Chris and Genevieve is a real baptism by fire as they are both very passionate, often with opposing views - this leads to a lot of fraught discussions, but the end result is always the right one - it may seem odd,  but I think if you have to fight very hard for your vision, you soon work out whether it's truly right for the film, or just another idea that should be ditched.'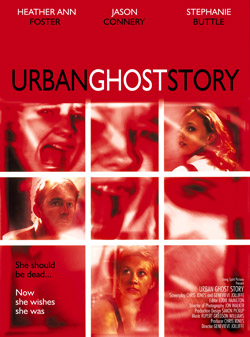 Music was produced by Rupert Gregson-Williams, brother of Harry who wrote the score for Living Spirit's second feature film, White Angel. A contemporary and spiritual feel was required, a feel that Rupert captured with a rich mix of ethnic drums, melancholic piano and haunting female vocals. The final audio mix took place at Britain's foremost dubbing theatre at Tiwckenham Film Studios. Dubbing Mixer Tim Cavigans job was to create the acoustic world in which the characters lived, a thick, dark and broody mixture or Eraserhead style mechanics and Alien landscape winds.

Urban Ghost Story was completed in April 1998 and sales agents Stranger Than Fiction were appointed to represent the film. A new poster was designed and strategy to launch the film at Cannes '98 was developed. Urban Ghost Story was screened three times in Cannes and was extremely well received, with sales happening within moments of the credits rolling. Genevieve Jolliffe and Chris Jones were present, alongside Jason Connery and other members of the Living Spirit crew in order to help raise industry awareness.

In front of an excited and packed audience, Urban Ghost Story received it's unofficial premiere at the BAFTA theatre in London on May 30th 1998. It's official premiere was held at the Edinburgh film festival in August 98 after which it received considerable good press and reviews.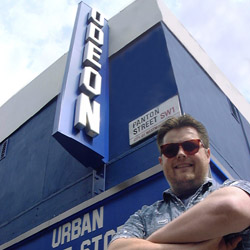 September 1998, Urban Ghost Story was nominated for two major awards at the British Independent Film Awards - Genevieve Jolliffe was nominated for the Hickox Award for first time direction, and producer Chris Jones was nominated for Best Achievement in Production.

Friday 13th July 2001, Odeon Panton St., London West End, Urban Ghost Story opens to a sell out house. Yes, the Odeon was actually turning people away as there were no seats left. Urban Ghost Story also opened in Glasgow where the film which has met with critical acclaim, was set. Pictured right, film maker Chris Jones, hours before the public were about to see the film.
You can buy Urban Ghost Story on DVD in our store here...